Hey!
Books and summertime go together, don't you think? I do and I have been steadily reading this summer. I only wish I could forego all of my daily chores to sit and read for hours on end. Ah, that would be bliss!
At the start of the year, Anne from Modern Mrs. Darcy issued a reading challenge: Read 12 books in 12 different categories in 12 months. She chose the categories and those participating chose their own books. I've been nibbling away at the categories and now have only 2 left to go! As far as my own personal goal to read 50 books this year, I'm on the right track with 32 read so far for the year.
#1 A book I've been meaning to read: Still: Notes on a Mid-Faith Crisis by Lauren Winner: This book sat on my nightstand for a couple of years. I enjoyed it and felt parts were spot on for me but I liked her book girl meets God more. A solid 3.5 stars out of 5 stars.
#2 A book published this year: The Invasion of the Tearling by Erika Johansen: I loved this book as much as the first one, The Queen of the Tearling. The story headed into a different direction than I expected but I'm all in for the third one. I can't wait to see the movie with Emma Watson!  4 stars
#3 A book in a genre I don't typically read: Horrorstor by Grady Hendrix: Creepy, easy to read, quick paced and not my cup of tea. I gave this book 2.5 stars because I did like the concept of using the store as a setting which added to the creepy factor and I liked the graphics used throughout the book.
#4 A book from my childhood: A Wrinkle in Time by Madeleine L'Engle: Still love this wonderful story. I gave this book 5 stars because of sentimental reasons and because I do feel the story is excellent as well as the writing.
#5 A book that was originally written in a different language: Letters to a Young Poet by Rainer Maria Rilke: Originally written in German, this story is about a young man seeking advice from the poet. Lots of wonderful thoughts and quotes on life and writing. 4.5 stars
#6 A book everyone has read but me: The Storyteller by Jodi Picoult: I couldn't finish it. I tried really hard. I read it for book club and I read half of it [200 pages] and sort of skimmed the rest. I just don't like Jodi Picoult's style of writing. Everyone kept telling me I would love this one because it was not like her others. I disagree. It was exactly like her others. No rating, wouldn't be fair.
#7 A book I chose because of the cover: Listen, Slowly by Thanhha Lai: I'm reading this book now. The story is as beautiful as the cover. A girl accompanies her grandmother back to their native Vietnam to discover what happened to her grandfather and is learning about the value of family. Right now, the book is hovering in the 4 star region.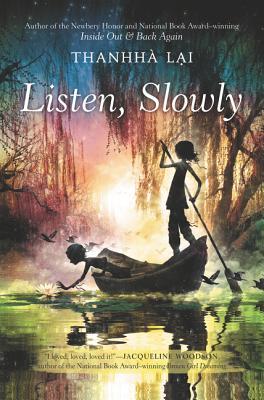 #8 A book by a favorite author: Somewhere Safe with Somebody Good  by Jan Karon: I loved being back in Mitford with all of the familiar characters. The book did feel a little like a swan song. 4 stars because I adore this series.

#9 A book recommended by someone with great taste: Dear Mr. Knightley by Katherine Reay: My friend Nancy suggested this book to me and I loved it and have recommended it to others. I ordered her second book the minute I finished this one. 4 stars
#10 A book thats currently on the bestseller list: The Girl on the Train by Paula Hawkins: This book is also not a typical genre for me but I read it for book club. I thought the book was well written and I enjoyed it but I was so stressed out reading it which is why I don't normally read this genre, psychological thriller. 4 stars

My last 2 categories to conquer are: A book my mom loves and a book I should have read in high school. If you'd like to read my full review on any of these books (except for A Wrinkle in Time and Listen, Slowly), you can find them by clicking on the Goodreads bar on the right hand side of the page.
Blessings,
Mimi
"How sweet are your words to my taste, sweeter than honey to my mouth!" Psalm 119:103 NIV Bible